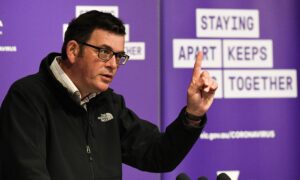 The Andrew's state government has told Victorian public servants to avoid terms such as "wife," "husband," "madam" or "sir" when working with LGBTIQ+ people.
Judges will also move towards using gender-neutral terms such as "citizen," instead of traditional terms such as "mister."
The 11-page document (pdf) published this week outlines how public servants are not to "exclude" and "devalue" non-heterosexual people and their relationships by assuming a person's gender. The documents adds that while most men use "he" and most women use "she," some people use gender-neutral pronouns like "they/them."
Those who get it wrong are advised to "apologise promptly" and not to give up until they "get it right," the document states.
Victorian Health Minister Martin Foley said that this approach was about being "polite," reported Newscorp's Herald Sun.
"I was always brought up with the notion that it's always best to be polite, and it's being polite to someone to not take assumptions, as to their marital status, their sexuality or their role in life," he said.
However, Bella d'Abrera from the think tank Institute of Public Affairs, told Newscorp that the Andrews government was "obsessed" with identity politics.
"The obsession with whether Victorian public servants should be using 'wife' or 'husband' epitomises an unelected bureaucratic class obsessed with identity politics, and not focused on the needs of mainstream Victorians," she said.
"It tells you everything you need to know about the Andrews Government that it is more focused on policing the language of public servants than getting the 500,000 unemployed Victorians devastated by its draconian lockdowns back to work."
Rita Panahi, a conservative opinion columnist, said in an op-ed that "ceding linguistic territory" to the left was "divisive" and "destructive."
"The trans activist agenda has had enormous success in silencing critics by attacking anyone who questions or corrects falsehoods as dangerous bigots," she said.
The LGBTIQ inclusive language guide is part of the Andrews government's LGBTIQ+ Strategy, which was established in 2014 to achieve "equality for LGBTIQ+ communities involving every part of the Victorian Government."
A recent push for similar gender-neutral terms in New South Wales met with criticism from the state government.
NSW treasurer Dominic Perrottet said that it was "completely unacceptable" for public service staff to be lectured on neutral gender pronouns while the state works towards economic recovery amid the COVID-19 outbreak.
"We can't have people get rid of their own identities for other people's inclusion," Perrottet told 2GB radio on Sept. 7.
The Epoch Times reached out to Equality Australia for comment but did not receive a response in time for publication.
Henry Jom 2020-12-17 15:38:14

Article Source – www.theepochtimes.com